Viz Vectar Plus User Guide
Version 1.3 | Published November 18, 2022 ©
Working with Sessions
A session is a unique Viz Vectar Plus production instance, with individual working environment configurations of things like inputs, outputs and equipment specifications.
If Viz Vectar Plus is not already running, power it up to reveal the Home page.

If already running, with the Live Desktop displayed, from the menu bar select File > Exit, click the large triangular Back button to the left to access the Home Page.
See section Sessions Introduction for more details.
The Home Page
To create a session
When no previously created session exists, click the New Session button to create a new session.


In Enter Session Name to the right, click to optionally modify the default name (the default name is the current date).

Select Video Settings to specify resolution and standards like PAL or NTSC that will be used throughout your production.

You can usually skip Session Settings.

Note: By default, new sessions are created on the D: (Media) drive. See Section The Home Page for more about drive options.

Click Start Session.
This opens the Session page, where further once-only configurations are needed.
To configure connections in the Live Desktop
On the left, click Manage.

Enter the location of your various sources that you will use during your live production.
To start production in the Live Desktop
The Live Desktop is where you operate your live production.
On the left, click Live then Start Live Production.

The Live Desktop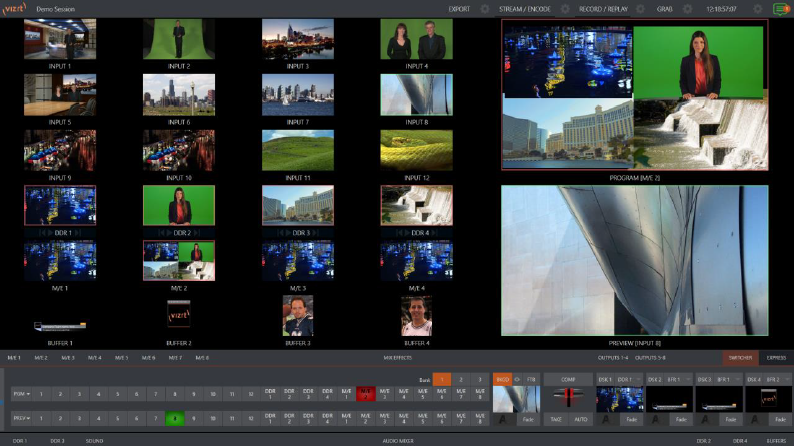 The example above shows a Live desktop with configured input devices content.
For further details see section Live Desktop.
Networking
Viz Vectar Plus has the flexibility to switch, mix, and actualize any type of live production. With built-in media players, recording, streaming, audio, and graphics control, providing simultaneous delivery for distribution to multiple destinations supporting various screen types. Instant access to seamless interchange with essentially unlimited IP sources from anywhere across your network in real time. Viz Vectar Plus is digital media production software that employs standard computing and network infrastructures with IP connectivity including NDI.
Access the system Network and Sharing control panel for network configurations. See section Configure Network under Administrator Mode in The Session Page.
For further help, please consult your system administrator.