Viz Vectar Plus User Guide
Version 1.3 | Published November 18, 2022 ©
External Sources
Columns in the first set of control groups are numbered as Input 1- 16. Each of these can be assigned to any available audio source, whether analog (line level) sound supplied to rear panel connectors, SDI embedded audio from one of the four SDI inputs, available NDI source, or other system audio source (including network audio sources like Audinate's Dante™, with appropriate drivers.
Note: Dante support requires a user license from Audinate™.
This default linkage, is not strictly enforced. However, you can connect directly to any external audio source in Advanced Configuration. Also, you can treat various audio sources as independent of the nominally associated video input. The Follow (audio follows video) features play an important role in this context. See the sub-heading Follow Program Video in Advanced Configuration.
Connection Type

Only one connection can be active for a given audio input at any moment. To access the Connection menu, move the cursor into the label of an input, and click the Configure (gear) button that appears there. The Advanced Audio Configuration panel shows.
The drop-down Connection menu at the top of this pane, allows you to assign any one of the supported sources connected to the system to this Audio Mixer control column.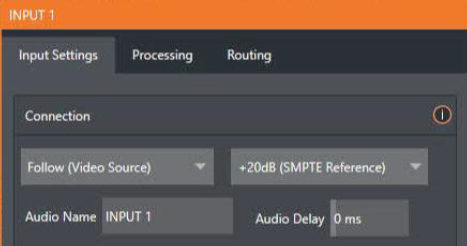 Local sources support different connection types, as determined by a menu in the same group. This option typically defaults to Auto-detect, but depending on the model, it may include Line, Mic, or Embedded (which is the correct setting for audio included with an SDI or NDI video connection).

Dante sources (network audio from systems supporting this protocol from Audinate™).

Follow (Video Source) is the default selection and causes the control column to follow the same numbered video Switcher input.

All available NDI audio sources.
Note: Channels 1 and 2 from Master and Aux 1 are always placed on Dante output channels 1-4, respectively.