Viz Vectar Plus User Guide
Version 1.3 | Published November 18, 2022 ©
Features
A brief overview of some key features of your system:
A/V Input and Output‌
With built-in media players, recording, streaming, audio, and graphics control, this product reaches more audiences with aspect ratio, resolution, and frame rate independence, providing simultaneous delivery for distribution to multiple destinations supporting various screen types.
The underlying software, integrates standard computing and network infrastructures with NDI® IP integration.
Other features include:
Support for up to 44 external inputs in resolutions up to UHD 60p with alpha channel, and support for over 40+ output signals over IP, all independently configurable through software.

Live switch up to 44 external video sources, and nearly as many internal sources.

LivePanel buttons add the convenience of presetting and editing macros, without ever leaving the user interface.

Importing a clip from Media Player now conveniently saves your imported/transcoded clip(s) in the same location.

Video resolution/frame rate display of every video source coming into the system.
Switcher outputs (MIX) can now be specified to support the rendering of alpha channel, including NDI outputs which can also be used in Adobe CC or DDR's.

With Virtual PTZ, you can create and access multiple shots from any individual video signal; complete with live virtual zoom and real time pan and scan effects.

Powerful, multi-bus mix effects with eight M/E busses, plus preview bus, all supporting zero-latency video reentry.

Freely mix multiple video formats, and output UHD and HD sessions simultaneously.

Supply Microsoft Windows® or Apple Macintosh® computer displays as Switcher inputs over the network using NDI® Scan Converter clients.

Load layered animations and PSD files directly into system buffers.

Cascade effects in endless creative ways using multiple re-entrant M/Es.

Readily access all the sources, destinations, and media assets from any location on the network.

Create complex M/E effects and compositions using multiple sources with live (virtual) camera moves.

Use switcher row color groups to link video sources for associating entities like multiple M/Es.

Manage the input and output of video in non-standard aspect ratios like 9:16 and square video, non-standard video frame rates, rotate and flip to produce content for any platform and destination.

Send Main or AUX bus audio mixes to a variety of IP audio outputs.

Flexibility to mix and match caller software applications, streaming formats, websites, video formats and a wide range of media files.
Viz Engine Integration
Viz Engine is a powerful compositing and real-time 3D rendering platform that forms the foundation for a range of graphics and video production.

Viz Engine comes with Viz Artist, a powerful graphics design tool that supports a range of production use cases including live motion graphics, virtual sets, augmented reality, and complex 3D animations.

The Viz Engine platform connectivity enables integration of customized control software, 600+ user-specific plug-ins, Unreal Engine 4 rendering, importing of models from Autodesk's Maya and 3ds Max, Maxon's Cinema4D, and Adobe After Effects, and support for multiple tracking systems.
Conference Call Connectivity
Live Call Connect is a flexible and powerful integrated support for a wealth of popular remote calling and conferencing applications, plus supported web browsers.

Install popular applications like Microsoft® Teams, Zoom, Google Chrome, FaceTime, Facebook Messenger, WhatsApp and many others, and assign their individual audio and video outputs directly to the Switcher and Audio Mixer inputs.

App Return, a special designated source to route and configure audio & video to supported applications using Live Call Connect. Video routing options support MIX 1-8 and audio routing corresponds to a mix minus of the Master and AUX busses, or any input.

Productions are enhanced with real-time interactions that feature multiple high quality video and audio inputs, so that show producers are able to connect between studios and remote guests or callers from anywhere in the world, without compromise or worrying about connectivity.

Use the native Skype TX support with Microsoft's powerful Skype TX™ platform to connect Skype™ calls directly to the Switcher, with automatic handling of return audio and video (including mix minus).

Viz Vectar Plus offers a unique TalkBack feature to provide private direction to callers.
Note on Deployment platforms:
Viz Vectar plus is designed to take advantage of the hardware accelerated capabilities of the latest versions of Windows. Because of this, the Live Call Connect feature requires Windows Build 29041 or later. For some cloud platforms like AWS, this might not be available as default configuration. This will change over time. You can in most cases work around this by bringing your own Windows 10 version and deploying it manually in the cloud platform. This may have implications on cost, technical complexity and licensing agreements with Microsoft. This manual process is not supported by Vizrt. However, we do support our software.
Timecode‌
NDI QuickTime® recording format includes embedded time-code.

Recorded clips are easily aligned for synchronized post-show editing using timecode.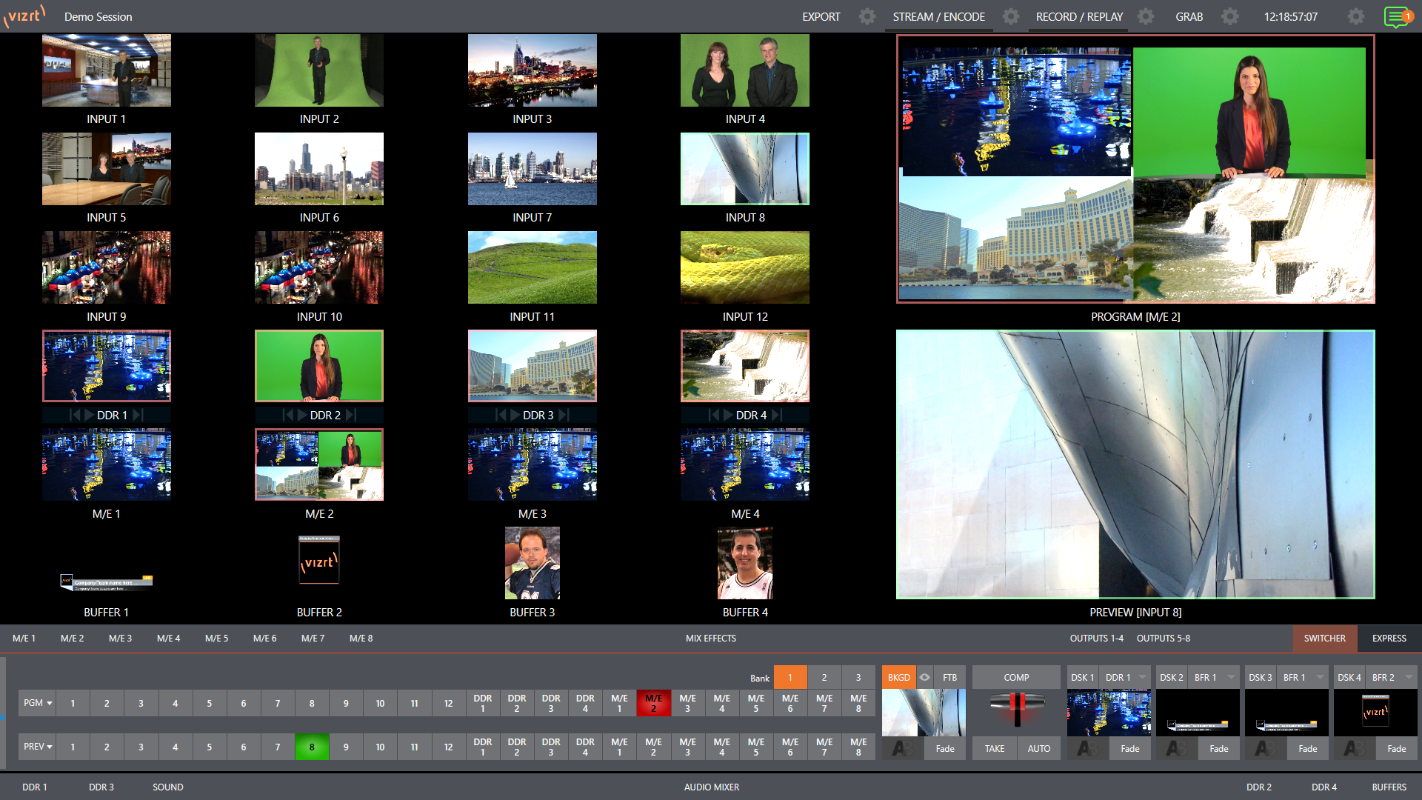 Monitoring
The Live Desktop includes a large monitoring pane with multiple, easily customized workspaces.

This multiview displays all live and internal video sources, including media players and network sources.

A multiview workspace can contain external resources, offering alternatives like numerous multi-bridge layouts, overlays and event clocks.

The monitor sources presented on the Live Desktop and up to four external multiview's, are all user-configurable. This includes media player clip timecode counters and custom logo display.

Waveform and vectorscope monitors help you calibrate your signal to ensure the output meets broadcast standards.
Video Processing‌
Full 4:4:4:4 32-bit floating point internal processing of all video sources.

Proc Amps and White Balance controls for every source preserve pristine image and color fidelity.
The Switcher‌
The powerful Switcher module, which provides native support for the popular NDI® (Network Device Interface) protocol, puts your sources at your fingertips in a familiar Program/Preview row control layout.

For less complex productions, the Switcher's convenient Express mode simplifies the process. This one-button operating mode is especially welcome in environments where volunteers or less experienced operators are involved.

Additionally, optional support for switching with a touchscreen has been provided. Just tap the corresponding viewport to instantly send that source to Program output, using the current background transition.
Video Layers and Transitions
The Transition section of the Live Desktop provides powerful tools for arranging and displaying the numerous video and graphic layers contributing to your ultimate program output.

Freely hot-punch or transition between external sources, internal media players, and M/E effects.

Latch selected Switcher and M/E source rows in color groups to synchronize switching operations.

Multiple DSK (downstream key) Switcher channels and independent KEY channels for each M/E, permit endless creative possibilities.

Bring DSK's on and off screen with PGM/PST background sources using combined layering and transition effects.

Use any of the hundreds of transitions supplied to reveal either Background or DSK/Key channels with animated wipes, trajectories and dissolves, including colorful Animation Store transitions with sound effects.

Reveal combinations of video layers with one operation of the T-bar or click on Take/Auto buttons.

Use per-layer controls to independently display any layer with or without transitions.

Employ Speed, Reverse and Ping Pong options to modify individual transition effects for any layer.
DSK Channels

Display DSK channels independently and swap them during a switch with custom transitions.

DSK layers support downstream overlays (M/E Keys are upstream overlays, ahead of the main Switcher).

Assign media players, buffers, camera or network sources to an overlay channel.

Independent Crop, Position, 3D Rotation, and Scale controls for each DSK channel enable multiple source configurations as picture-in-picture elements and reveal them with custom effects.
M/Es

Color-coded M/E (Mix/Effect) banks provide stunning effects.
These include secondary video mixing capabilities, switching with traditional wipes, full alpha channel support and real-time keying technology for green/blue screen effects, and much more. Each M/E bank supports:
Up to eight primary video sources per effect.

KEY (overlay) channels with individual transition capabilities.

Sub-mix functionality, with individual transitions for A/B Background layers and all KEY channels.

Individual Scale, Position, Crop and Rotation controls and motion Tracker support for all channels.

Powerful Comp (composition) preset features let you animate layer and overlay position, rotation and other attributes.

Convenient MEM system allows instant access to pre-configured M/E setups.
Record and Stream‌
Record live-switched production at full resolution in high-quality QuickTime® format.

Real-time, direct upload of clips, active recordings, and streams to social media, storage volumes, and web-based destinations, with optional transcoding.

Comprehensive, multi-channel recording configuration for capture, playback, and archive of production content across your ecosystem.

Capture technology supports multiple simultaneous A/V recordings chosen from among local camera inputs and the four primary outputs.

Easily grab still images from any Switcher source, or batch capture selected outputs.

Streaming: RTMP, RTSP, HTTP, SRT, and more.

Live stream to multiple destinations for redistribution and archive your stream locally.
Media Export‌
Real-time, direct upload of clips, active recordings, and streams to social media, storage volumes, and Web-based destinations, with optional transcoding.
Clips and stills from live sessions can be added to the Export queue without interrupting production, for distribution to multiple hosting services and social media sites (including Twitter®, Facebook®, YouTube®, and more) – even when live production recording is still underway. This is great for concerts, galas, sport events, game shows and more. The Export feature directly addresses FTP sites and network locations too. Transfer media to multiple locations at the same time to meet post-production needs or other collaborative and archival requirements.
Automation‌
Easily accessible through any web browser or operating system, there are production-ready control panels for remote video mixing, media playback, audio mixing, and macro automation, plus a panel builder tool to design your own custom panels geared toward your unique productions and workflows.
Hotspots, Triggers and Trackers‌
Define multiple onscreen Hotspots for different (chromakeyed) sources, and trigger macros automatically whenever something opaque enters the hotspot. This live interactivity opens up countless creative applications.
Trackers provide motion data from selected color regions as they move about the frame in real- time. Lock video sources to Tracker output using Position tools in M/Es banks and DSKs and they follow obediently.
Import‌
With built-in media players, recording, streaming, audio, and graphics control, the integrated Import Media feature provides a convenient one-stop approach to gathering productions assets:
Batch import media files for use in media players.

Imported files can be pre-assigned automatically to specific players, making them easy to find and use during live productions.

As necessary, imported files are transcoded.
Audio Mixer‌
The integrated Audio Mixer provides extensive multi-channel control and management.
All 44 audio inputs can be accessed with the Audio Mixer scroll bar (located below the SOLO buttons).

Neural Voice Isolation (AI Audio) to enable/disable noise reduction per channel on each audio mixer input.

Adjust numerous internal and external audio sources, and introduce them into your program manually or automatically.

Control output levels for program, headphones, auxiliary outputs, recorders, and stream separately.

Convenient audio mixer MEM system allows single-click access to prepared setups.

Automation allows complex video follow audio options and threshold macros.

Exclusive or Latched Solo controls.

Independent 7-band EQ, Compressor/Limiter and Noise Gate for each source and output.

Complete multi-bus 8x8 matrix routing options.

Configurable VU meters: Show calibration on digital (dBFS) or analog (dBVU or dBu) scales.
Advanced Audio Connect
VST plugin with NDI offers unlimited support for mix minus, intercom, and other advanced capabilities without any restrictions on scale, all with floating point audio, and without any channel restrictions.

Supports comprehensive integration of system audio with external mixers.

Provides independent routing of any audio input or audio output channel(s) for external routing.

Enables extraction of embedded audio from NDI® sources for external routing.
Integrated Media Players‌
Media players and the title system serve up graphics and audio files quickly and easily.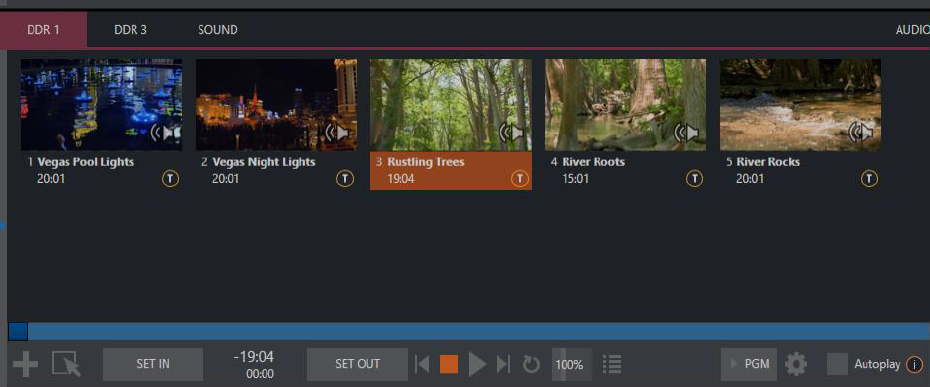 Built-in media players, recording, streaming, audio, and graphics control, with aspect ratio, resolution, and frame rate independence.

Superior stored media playback capabilities, with multiple real-time multimedia players supporting an array of file formats

Re-order playlist entries.

Add colorful transitions between playlist items.

The Sound module has volume and other advanced audio controls in the Audio Mixer.

Convenient 'per clip' audio level and playback Speed control.

Auto play feature starts and stops playback automatically based on Switcher activity.

Control media players with macros triggered by other events.

Assign titles, graphics, or buffers to multiple DSK or M/E Key channels.

Instantly transition media to the main Switcher or an M/E and then restore the original source using the Show On feature.

Store playlists and player configurations in MEM slots for easy recall.
Buffers‌
The Buffers module provides quick review and management of the internal media buffer system, providing combined playback and asset management tools, and is fully supported by the Macro system.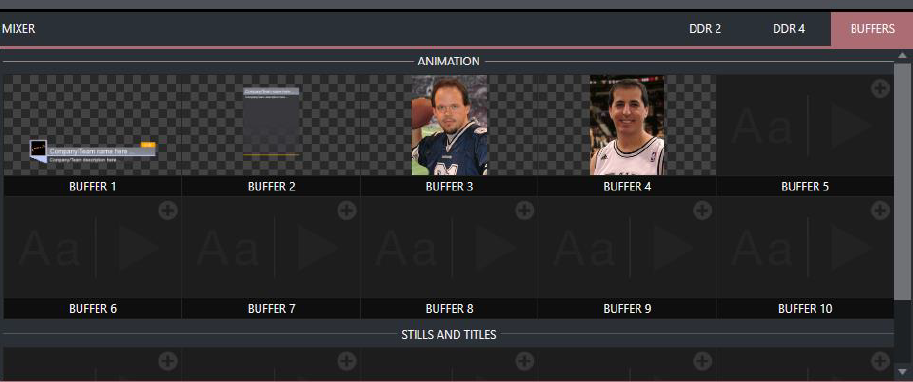 Buffers can be applied in any video channel, including all main Switcher and M/E rows, or as overlays in the countless DSK/KEY channels. Buffer slots can contain animated effects, still graphics or editable title pages.
Buffer effects are resident in reserved Switcher memory, making it possible to use them all at once without tying up media players.
Optional Control Surfaces‌
Several optional control surface options have been designed to complement your system, making your live production operations even more convenient.