Viz Vectar Plus User Guide
Version 1.3 | Published November 18, 2022 ©
LiveGraphics
LiveGraphics® represents a groundbreaking approach to title and CG page creation, combining the power of the most complete production systems on the planet with Adobe® Creative Cloud®.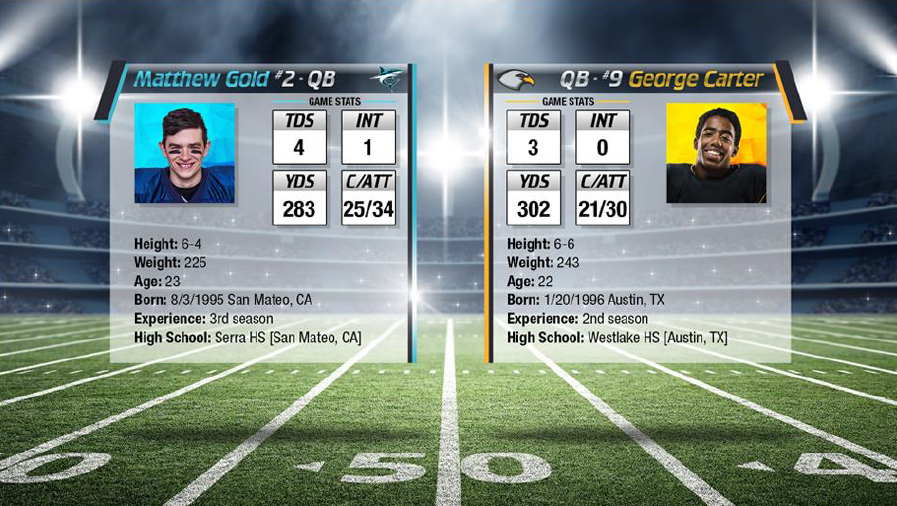 Viz Vectar Plus LiveGraphics can noticeably improve your productions and gain the attention of your viewers.
Working with LiveGraphics
LiveGraphics comprises several key elements.
An extensive set of professionally prepared animated title templates and the interface to control and update these in your Viz Vectar Plus system.

Ability to designing animated titles, motion graphics, and looping effects using popular Adobe® Creative Cloud® tools— then importing them directly into your Viz Vectar Plus live production system, enabling both dynamic animate and update.

The LiveGraphics Creator plugin simplifies authoring in After Effects CC for users of all experience levels.

Enhanced real-time system functionality allowing powerful customization, playback, and even automation options.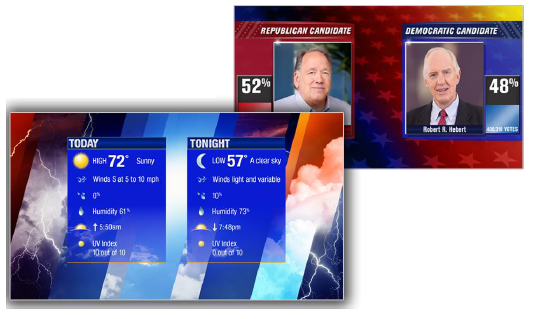 LiveGraphics lets you produce and present spectacular live graphics faster and easier.
Use Layered PSD Files
Create individual graphics or an entire package in Adobe Photoshop CC, then bring the PSD files directly into your Viz Vectar Plus live production system.
LiveGraphics recognizes the layers automatically, allowing you to manage elements independently and store up 16 macro-ready variations per system buffer.
Animate in After Effects
Animate graphics faster and easily, with the included LiveGraphics Creator plugin for Adobe® After Effects CC.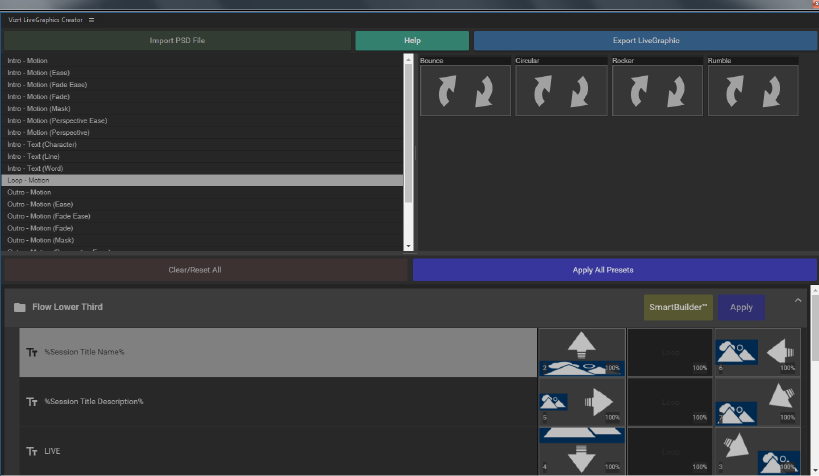 AE novices can simply import a layered Photoshop® PSD file, drag and drop presets to apply motion to its different layers, then export the result ready for live use.

Use the included SmartBuilder™ to have LiveGraphics analyze your content and add animations for you with a single click.

Advanced users can refine their creations using standard methods in After Effects.
Hint: Viz Vectar Plus LiveGraphics Creator is documented in its own manual, installed with the plugin.
Title Editor for Buffers
You can load any of the 100+ production-ready LiveGraphics templates supplied with LiveGraphics into your system's Buffer slots and get started right away.
The Title Editor lets you change text and images on the Title pages, and hide or show layers using the Layers menu.

Layers animate into place as you do so.

Store the results as presets, then display the Layer preset bin by clicking the Preset button at upper right.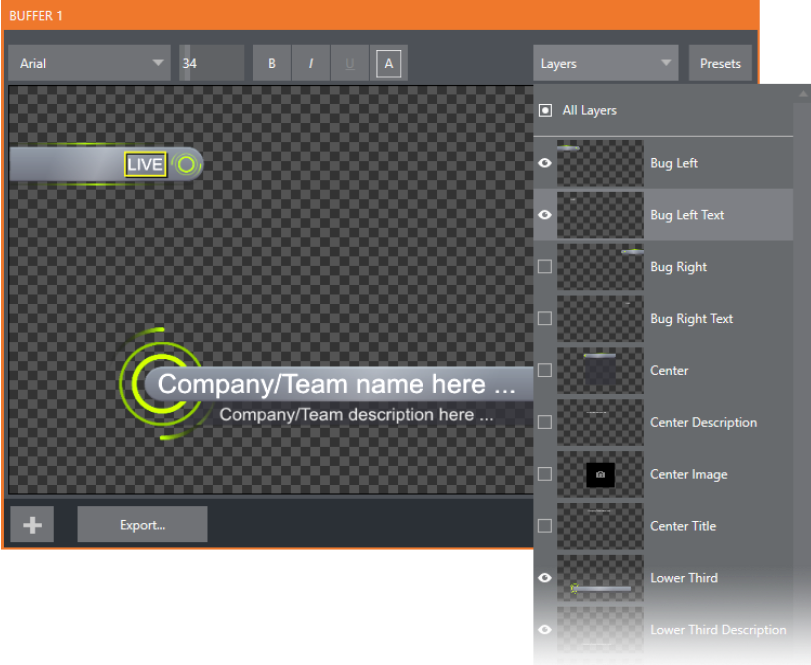 To preserve the Layer and Data presets
You can preserve the Layer and Data presets that you generate for your LiveGraphics pages outside of the current live session.
Click the Export button in the Title Editor.

Load your creation into a Buffer slot.

Use its preset bin to animate from one state to another.
See Buffer Presets for more detail.
LiveGraphics and DataLink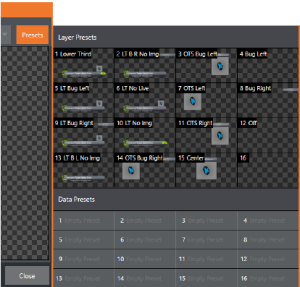 LiveGraphics supports Viz Vectar Plus DataLink™ system for dynamically updating title page details even during live display.

DataLink technology lets you use external hardware scoreboards, spreadsheets, and other remote data sources to populate and update your graphics automatically.

LiveGraphics templates support text and images direct from the Web when combined with the DataLink Web Browser extension.

LivePanel™ provides several powerful ways to update DataLink key value (for example as integrated Scoreboard control pages for various sports).

With the Builder web app, you can even build custom control pages capable of driving your motion graphics from any device on your network with a web browser.