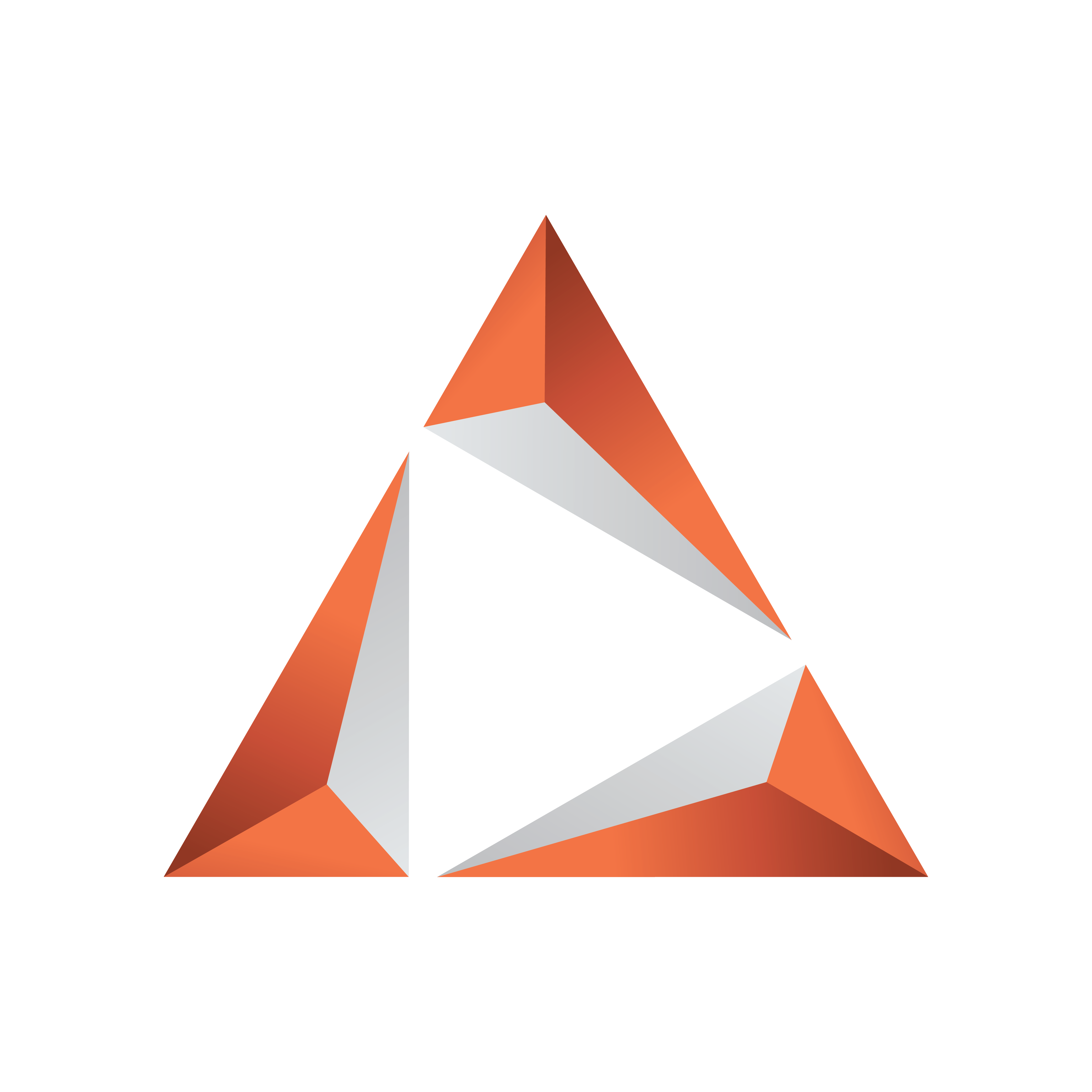 Viz Trio User Guide
Version 4.1 | Published September 25, 2023 ©
License, Hardware and Startup
Viz Trio needs a connection to Media Sequencer and a local Viz Engine in order to start successfully.
This section covers the following topics:
Hardware Configurations
Preview/Program Configuration
Traditionally, each Viz Trio system has required two standard desktop PCs to operate: one for the Viz Trio client and one for its renderer Viz Engine.
Viz Trio OneBox Configuration
You can also run a complete Viz Trio system, including the Viz Engine, on a single standard PC (desktop or rack mountable) with all the features of a conventional Viz Trio setup. Two powerful graphics cards ensure the same graphics quality and rendering speed. Both the VGA preview and final program signals (playout) can be viewed on the same machine.
Tip: The single computer setup is suitable when you have limited space, such as in mobile environments (OB vans and remote broadcasts) and small studios.
Connecting to Media Sequencer
Parameters in the program target path determine the connection a Viz Trio client has to Media Sequencer. If no Media Sequencer target path parameter is set, Viz Trio will default to a local Media Sequencer.
To connect to a different Media Sequencer, right-click the Viz Trio desktop shortcut on the Windows desktop and set a parameter for the -mse setting in the Target path.
Example: C:\Program Files (x86)\vizrt\Viz Trio\trio.exe -mse localhost -control -lang en -loglevel 5
Connecting to Viz Engine
Viz Trio needs a local Viz Engine in order to run previews and import scenes. Viz Trio automatically detects and runs Viz Engine.
Note: The same Viz Engine version must be installed on all machines and they must connect to the same Graphic Hub.
Administrator mode
Trio must be started in Administrator mode.
License
The local Viz Engine, Viz Trio and Datacenter must be licensed through CodeMeter from WIBU systems. The CodeMeter runtime service must be running on the local Trio host. CodeMeter is bundled with the local preview Viz Engine and the Trio client installer. When retrieving the license from a dedicated license server, it must be configured in the Vizrt Licensing Service (see the Client Configuration page in the License Server Setup and Administration section of the Vizrt Licensing Administrator Guide) or the CodeMeter WebAdmin.
When Trio starts up for the first time, a dialog box prompts you to select among available license containers, locally and from the configured licenser server(s) on the network: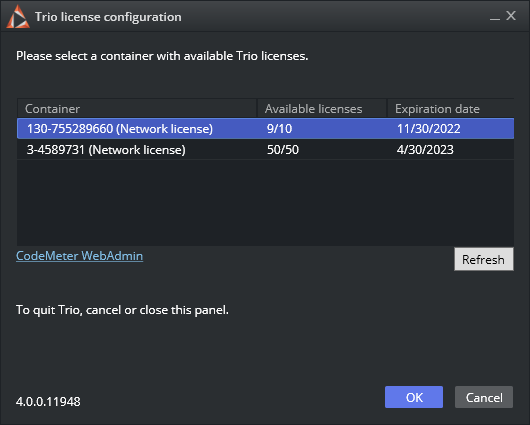 Select a container and click OK. The container is remembered the next time you start Trio.

To switch container, go to Help > Trio Licenses to open this dialog box again.

If there are no containers available, you may need to configure a licenser server. Click CodeMeter WebAdmin to open the configuration page.

Click Refresh to retrieve available license containers.
Ports
| | | | |
| --- | --- | --- | --- |
| Component | Protocol | Port | Description |
| trio.exe | TCP | 6200 | Used to execute macro commands of the Viz Trio client over a socket connection. |
| trionle.exe | TCP | 6210 | Used by the Graphics Plugin for NLE to utilize Viz Trio for effect editing. |