Viz Arc User Guide
Version 1.7 | Published November 15, 2022 ©
Main Menu and Project Toolbar
The Main menu contains the following sections:
File
All Project creation and management related actions are found in this menu.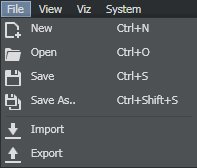 New (CTRL + N): Creates a new blank project.

Open (CTRL + O): Opens existing project.

Save (CTRL + S): Saves the current project.

Save As (CTRL + SHIFT + S): Saves project with a different name.

Import: Imports a Viz Arc archive (.arc file).

Export: Exports a Viz Arc archive (.arc file).
Note: The same operations are also available from the Project toolbar:

Projects
Projects can be located on the local file system or on Graphic Hub. When opening a project you can choose where to load it from, selecting from either the Graphic Hub tab and the Local tab.

When saving a project, you can choose whether to store it locally or on Graphic Hub using the respective radio button.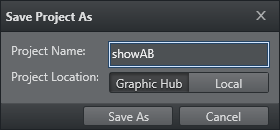 View
This menu lets you switch between the three main views when working in Builder mode.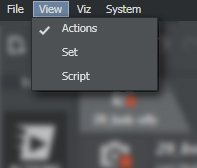 Actions: Switches to the Actions view in the main window.

Set: Switches to the Set view in the main window.

Script: Switches to the Script view in the main window.
Viz
This menu contains actions relating to Viz systems.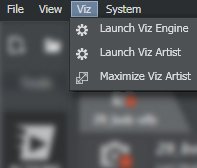 Launch Viz Engine: Launches Viz Engine.

Launch Viz Artist: Launches Viz Artist (if licensed).

Maximize Viz Artist: Switches to the Viz Artist window.
System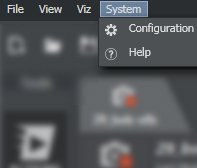 Configuration: Opens the configuration section in a new window.

Help: Opens the present manual.
Note: The configuration panel can also be opened by clicking

at the top right.