Animation Store Creator
Version 1.1 | Published May 07, 2021 ©
Audio Track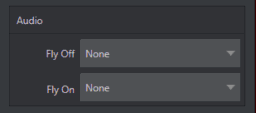 You can optionally select sound files for your transition using file menus labeled Fly On and Fly Off in the Audio control group.
Files should be a suitable length, naturally. Most common audio file formats are compatible (including .wav and .mp3).
Audio can be extracted from video file formats. This allows you to use the same video file as both the frame sequence and audio source (under their respective menus).
Hint: Audio levels for transitions can be controlled in the live production suite's Audio Mixer.