Animation Store Creator
Version 1.1 | Published May 07, 2021 ©
Animated Buffer
A more recent addition to the Effect Type menu is Animated Buffer.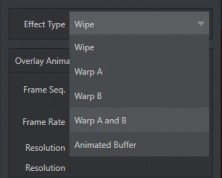 Animated Buffer provides powerful animation effects that can be used independently of Media Players, effectively allowing you to inject animation freely all throughout your productions. They serve particularly well in DSKs and M/E Key layers but can also provide useful elements for M/E compositions, and more.
Selecting this Effect Type option updates the Control Stack to display relevant options and settings in the area below: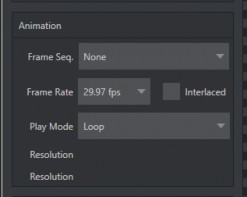 The Frame Seq. selector (Animation control group) lets you choose a file sequence (or animation clip in common formats, including those with embedded alpha channel). The Resolution and Frames display fields update after loading the file(s).
Play Mode
The video production suite's Buffer system supports three types of animated effects. Select Loop, Single, or Ping Pong using the Play Mode menu, according to the type of effect you require.