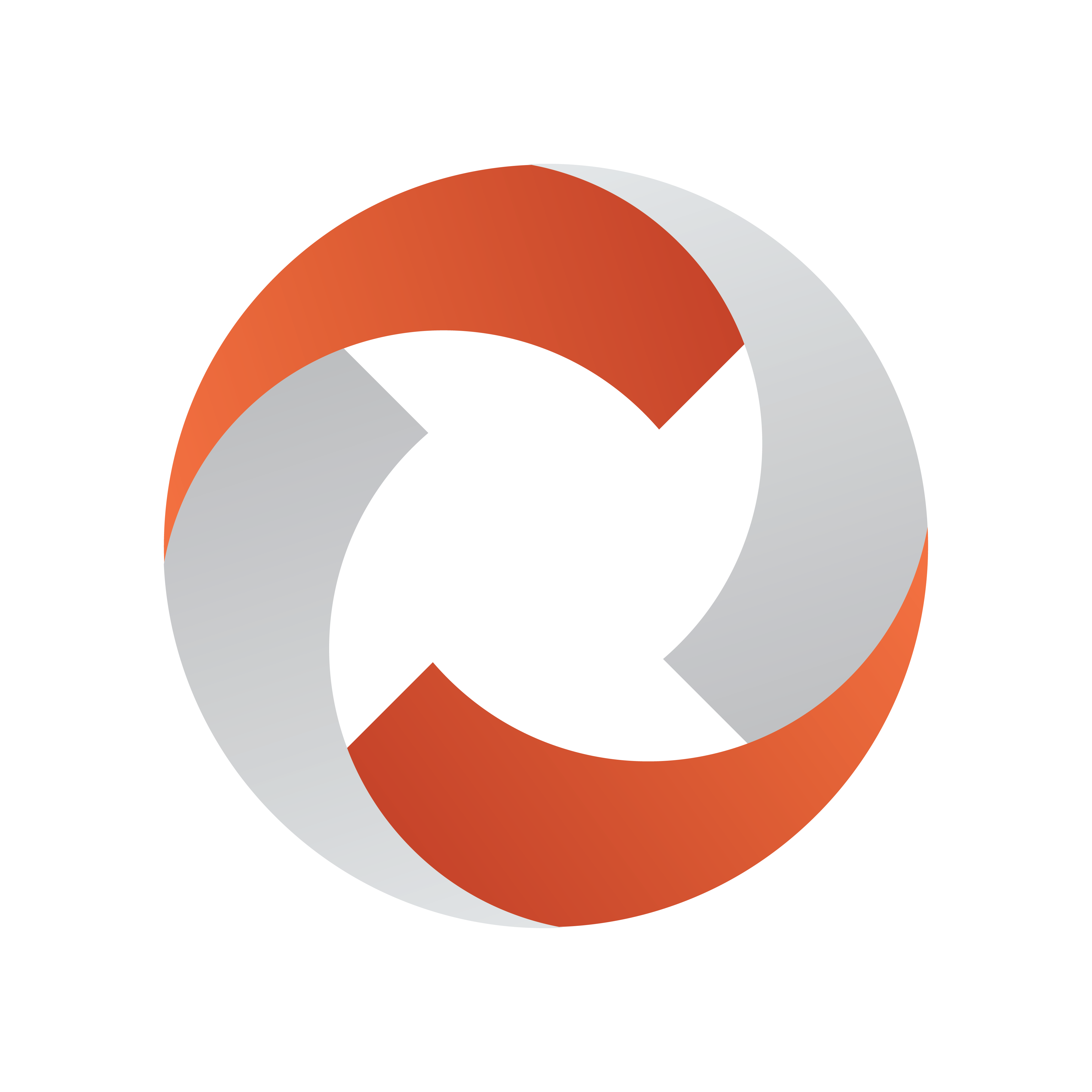 Viz Mosart Web Applications Release Notes
Version 1.5 | Published December 22, 2022 ©
Viz Mosart Web Applications Release Notes
Mosart Web Applications is a growing suite of modern, browser-based utilities, designed to enrich Viz Mosart workflows.
Mosart Web Applications 1.5
Release Date: 2022-12
These are the Release Notes for Mosart Web Applications version 1.5. This document describes the user-visible changes that have been made to the software since version 1.4.
The Mosart Web Apps provide a platform for innovation - a 'safe space' to pilot new approaches for taking the Viz Mosart user experience to the next level.
Your feedback is really appreciated, as are feature requests and any comments about both the application and its documentation. Please tell us what you think at mosart-feedback@vizrt.com .

Release Highlights
This version of the installer includes the following applications:
Rundown Viewer NEW
Tip: This document contains animated graphics. If you are viewing as PDF, we recommend the 1.5 web version.
With this release, we introduce a new application designed to give all users a read-only peek at the running status of the show that is currently on-air, from the convenience of your browser.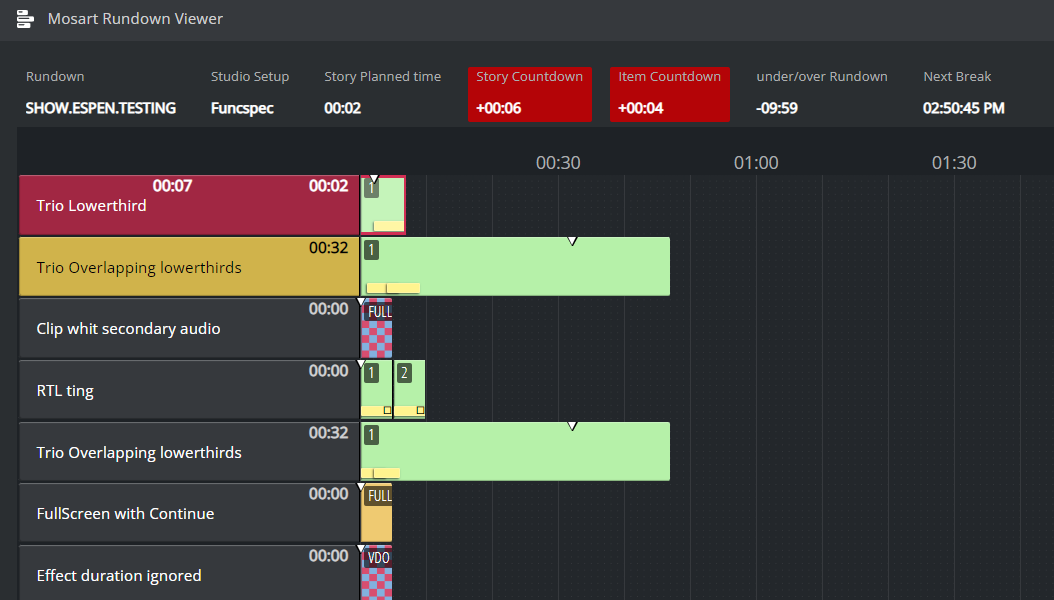 In response to feedback about the importance of displaying the full template variant, seeing more upcoming stories and of how the Mosart GUI can scale badly on different screens, Rundown Viewer introduces story scaling. This enables the user to choose the horizontal timescale, without affecting the vertical scale and text sizes: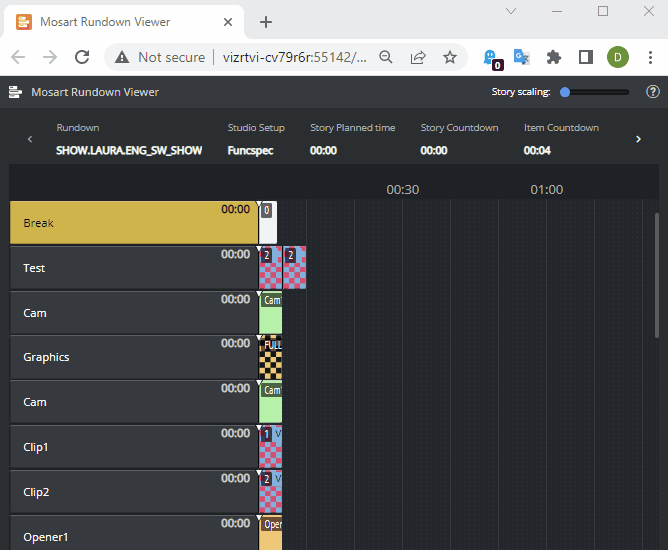 Since this is a web application, you can use it anywhere in your facility that your network configuration allows. HTTPS is supported.
No client installation needed - just open your browser and go to the URL that you've saved as a bookmark. As the Rundown Viewer application is read-only, it is safe for anyone to open without disturbing the show.
This app will continue to change and evolve. We have big plans, including the possibility of one day replacing the current Mosart GUI.
Current Limitations
Missing template indicator (red variant box) is not displayed.

Back-time calculation (the timer to the left in the Story) not supported.

The Autotake indication on items is not displayed.

Cue failure indications (striped clips) are not displayed.
More than ever, your feedback and suggestions are greatly appreciated!
NRCS Plugin
New features and improvements:
Keyboard Navigation - it is now possible to navigate the UI of the plugin using your keyboard.

Support for preset transitions (CUT/TAKE) - tailor Engine Switcher-driven transitions using newsroom tags in the NRCS.


Note:
By adding a newsroom tag to the Animate checkbox from the Engine Switcher Plugin properties window, a journalist can specify a preset transition (CUT/TAKE) from the NRCS.


iNEWS Addon stability - some reported stability issues in the iNEWS ClientAddon have been fixed
From the Vizrt FTP, use version /products/VizMosart/Latest Version/WebApplications/MosartNRCSPlugin-iNEWSClientAddon-1.1.n.nn.exe.

Microsoft Edge WebView2 Runtime

Note: The iNEWS ClientAddon requires Microsoft Edge WebView2 Runtime.

If unavailable, this Microsoft utility is automatically installed.

An offline installation with this utility unavailable will give the following error:

You will need to manually install Microsoft Edge WebView2 Runtime.
Timing Display
Version 1.5 of the Timing Display app is functionally identical to version 1.4. No new features are included in version 1.5.
Improvements
For this version, some general improvements and fixes have been made across the suite of Web Applications, including:
Offline documentation: Internet access is no longer required to access the UI-linked documentation.


Stability on Windows Server 2016: Fixed an issue with unexpected program termination at startup.
Installation and Upgrade
Installation
To download this version, please visit the Vizrt FTP site at https://download.vizrt.com/ and navigate to / products/VizMosart/Latest Version/WebApplications/
Upgrade
The installer manages the upgrade, automatically removing older versions of Vizrt Mosart Web Applications and Vizrt Mosart Web Applications Configuration Tool before installing the new package.
System Requirements
With this release, the Viz Mosart Web Applications installer (MosartWebApplications.Bundle) must be installed and run on the same machine as the Viz Mosart server.
The various web applications are then available on any web browser connected to the same network.
| | | | |
| --- | --- | --- | --- |
| Web Application | Viz Mosart version | Supported Operating Systems | Supported Browsers |
| NRCS Plugin | Any | Windows 10, Windows Server 2022 | Chrome |
| Rundown Viewer | 5.1.0 or later | Windows 10, Windows Server 2022 | Chrome |
| Timing Display | 5.0.3 or later | Windows 10, Windows Server 2022 | Chrome |
Documentation
For each Mosart Web App, a user guide is